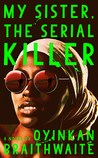 My Sister, the Serial Killer by Oyinkan Braithwaite
My rating: 3 of 5 stars
My Sister, the Serial Killer. Fiction or nonfiction, how could that title not entice you? Not to mention the book cover. A woman, with a gorgeous dark brown complexion, dazzling white teeth, a head-wrap and round mirrored sunglasses, looking a little off to the side. To be quite honest, until I sat down to write the description of the cover, I had not noticed the reflection of a hand gripping a knife about to strike in the lens of the sunglasses. The lettering of the title and the author's name is a fluorescent green, as is what's supposed to be blood spatter above the "E" in the word "the," below the "L" and "E" in "killer" and around the author's first and last names.
But what caught my eye the most is that the woman on the cover actually looks like my sister. Even funnier, my sister has a similar years old picture that was also turned into a painting. Because I know the story is a work of fiction, I didn't panic thinking that someone had written an exposé on my older sister, who by the way is twice divorced. I often tease her that before she gets married for a third time, she must let me have my walk down the aisle for a first.
This is ironic because My Sister, the Serial Killer is a novel about sisters Korede and Ayoola whose love lives are disparagingly opposite. Korede, the elder sister and a nurse, is chronically single and her only "friend" is a comatose patient. Ayoola collects admirers everywhere she goes and flits from one relationship to the next. A serial dater turned serial killer, stabbing her boyfriends with her late father's knife when they anger her.
Ayoola is spoiled by her mother and sister. Since childhood, Korede has taken on the role of her protector, which is why Ayoola calls on her when she stabs three consecutive boyfriends. "Ayoola summons me with these words—Korede, I killed him. I had hoped I would never hear those words again." Ayoola's defense for killing each man is flimsy, but her sister always helps her dispose of the bodies and clean up using her favorite cleaner: bleach.
The novel is narrated in first person by Korede. She's the straight thinker, while Ayoola borders on ridiculous. While trying to transport one of her victims in an elevator, Ayoola actually moves to oblige when someone yells "Please hold the lift." Korede stops her, and later has to tell her not to post cheerful Instagram posts or stories when she's supposed to be playing the part of a bereaved girlfriend with a missing boyfriend. Ayoola thinks she's in the clear because she proclaimed her innocence by sharing the hashtag #FemiDurandIsMissing.
While Korede is somewhat haunted by Femi and stalks his website of poetry, Ayoola has long forgotten him and moved on with her life and resumes dating. She has somehow convinced herself that he's simply missing and not dead. Korede's fierce loyalty to her sister is tested when Ayoola begins to date Tade, the handsome doctor whom Korede has been secretly pining over. Not only does Korede have to deal with the sting of watching the man she loves enter a doomed-for-many-reasons relationship with her sister, but she also fears for his safety. After all, her sister is a serial killer.
My Sister, the Serial Killer is a quick and fun read. It took me less than a week to finish, and I may have missed a few days. The book itself is small and compact. I dare say that despite the storyline of a serial killer and because of its compact size, the book is actually cute.
SPOILER ALERT (kinda)
I'm of two minds when I come to the conclusion of the book. The first is that Korede finally has a suitor of her own. Even though that would seem too much and too close to a romantic happily ever after, I look at the statements, "I am not exactly dressed to entertain guests—I'm wearing a bubu and a turban—but whoever it is will have to take me as I am." The "me" stands out because Korede is never the certain of attention. Also, in a change of events, Korede comes down the stairs to an already waiting Ayoola. When she does, Ayoola introduces Korede to the guest. "The man smiles. I smile back." Usually Korede must entertain Ayoola's male suitors in the living room so she can make a grand—late—entrance.
Or, the ending of the book is that the sisters continue on with life as usual. Korede seems resigned and even somewhat relishes in her role as the person to protect her sister. She's Ayoola's protector, secret holder, and enabler.